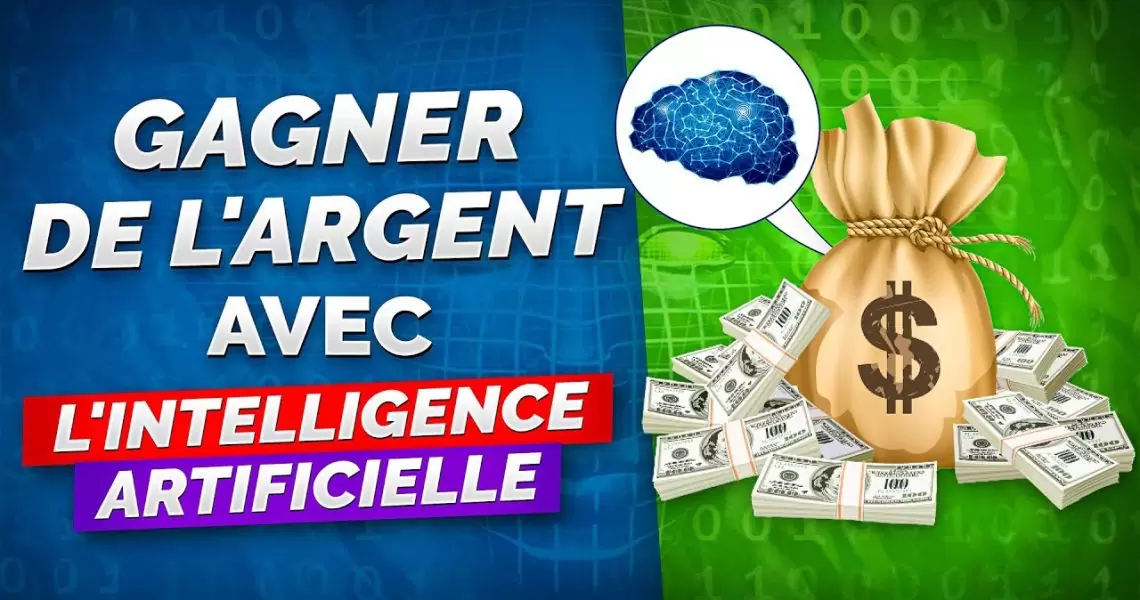 How to make money with artificial intelligence
8th February 2023
Earn money with artificial intelligence (IA) is the new way to make tokens on the internet. In fact, Artificial Intelligence writing software is rapidly becoming a indispensable in the business world. Whether it's AI-generated content or images, many people use these machine learning services to power their content marketing efforts.
More companies are using AI-powered tools to help with content creation, and the results have been impressive.
There are many ways to use artificial intelligence to make money. The best way for you will depend on your skills, resources and the market opportunities available to you.
In this article, I'll show you some potential ideas for you to consider for making money with artificial intelligence. But before, what is artificial intelligence ? Let's go!!
🔰 What is artificial intelligence
Artificial intelligence (AI) is a imitation process of human intelligence which is based on the creation and application of algorithms executed in a dynamic computing environment. Its goal is to enable computers to think and act like human beings.
The most famous artificial intelligence today is Chat Gpt. Chat GPT (abbreviation of " Generative Pre-trained Transformers ") is a powerful machine learning model that can be used to generate human-like text.
A potential use case for Chat GPT is to generate written content for websites or social media posts, which can help generate revenue through advertising or affiliate marketing.

Chat GPT is defined as a generative language model. However, in practice, it is understood as an artificial intelligence chat that has been trained and designed to hold natural conversations.
Chat GPT is owned by the research company OpenAI, founded in San Francisco in 2015 by Sam Altman, Elon Musk, Greg Brockman, Ilya Sutskever and Wojciech Zarem. Here's how to win with this tool.
1. Do copywriting
Copywriting and artificial intelligence now go hand in hand. Copywriting is a key skill for any marketer who seeks to attract the attention of his audience.
But with the demand for content constantly growing, it becomes difficult for marketing teams to produce enough content to meet the needs of their audience. This is where AI copywriting platforms come in.
How's it going….
If you're looking for a way to make money writing articles, starting an article writing agency with AI writing software is a great option.
You can create a team of AI writers or do it yourself. Either way, you'll be able to produce high-quality blog posts quickly and efficiently. Additionally, with AI software, you will be able to scale your business quickly and easily.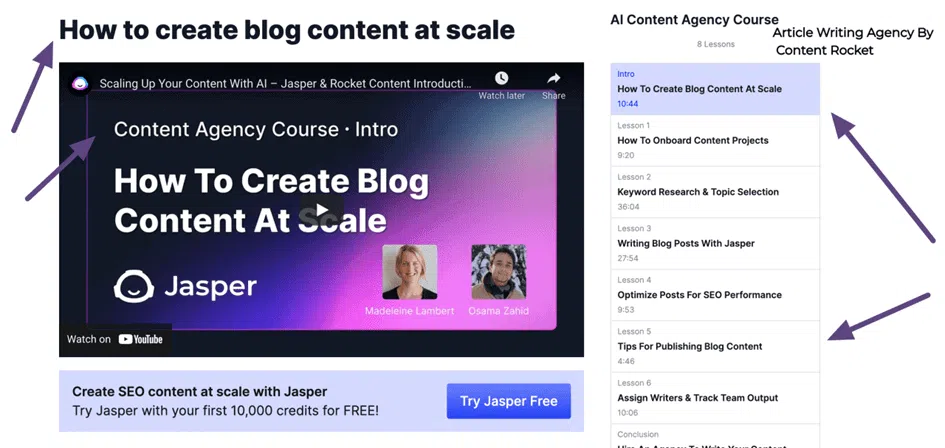 AI copywriting platforms can also help marketers optimize their content for SEO. These tools can suggest relevant keywords to include in the content, as well as meta tags to improve their website's visibility on search engines.
They can also be used to personalize content based on the target audience. Marketers can use these tools to create copy that speaks specifically to a particular demographic, using information such as age, gender, geographic location, and more.
By creating eye-catching sales messages, compelling product descriptions, and personalized newsletters, marketers can grab their audience's attention and build loyalty.
Improve existing content
Using artificial intelligence to improve already existing content is a great way to make money as a freelance writer. If you have clients who are happy with the work you already do, offer to improve their blog posts using AI software.
You can use an AI writing assistant to help you with grammar, sentence structure, and even existing articles.
I use Surfer SEO, an AI SEO audit tool for blog posts, then improve my content using Jasper AI.

Grammarly does this well once you've already created the content or the company needs you to review their posts.
Copywriting artificial intelligence
There are several copywriting AI platforms on the market that can help marketers produce quality content. Here is a detailed presentation of some of them:
copy.ai
copy.ai is an artificial intelligence that allows you to write content for you. It uses an algorithm that just asks you to explain the context of the product and allows you to create sales pages, emails, blog post ideas… in just seconds.
According to its website, this online tool will end writer's block and create marketing copy in seconds. Copy.ai can solve a variety of problems, including producing fresh and relevant content, reducing workloads, and improving efficiency.
writesonic
writesonic is an AI copywriting platform that uses deep language models to produce content for websites, blogs, social media and email marketing. The platform can generate complete texts using information such as keywords, topics, tones and formats.
Marketers can create eye-catching headlines, product descriptions, and sales messages to enhance their communication with their audience.
jasper.ai
jasper.ai is an AI copywriting platform that uses machine learning algorithms to produce content for websites, blogs, email marketing and social media.
The platform can generate complete texts using information such as keywords, subjects, tones and formats. Marketers can create eye-catching titles and descriptions of their products here.
Jasper AI is an AI writing assistant that takes various data into account and produces quality texts. It is designed to help you not only improve your writing, but also find ideas, to suggest new things and even to correct grammatical errors.
Bookmakers
Bonus
Bet now
✔️ Bonus : until €1950 + 150 free spins
💸 Wide range of slot machine games
🎁 Promo code : argent2035
✔️Bonus : until €1500 + 150 free spins
💸 Wide range of casino games
🎁 Promo code : argent2035
✔️ Bonus: up to 1750 € + 290 CHF
💸 Portfolio of top notch casinos
🎁 Promo code : ml_159436
✔️ Bonus: to €500 + 100 free spins
💸 A reputable and reliable brand
🎁 Promo code : FDDC
rythr
rythr is a content editor that was created to facilitate the process of writing and publishing content on the web. The main objective of this project is to allow people to post content faster without having to do all the technical work.
The idea behind Rytr is that you can create any type of post on your computer, like a blog post, article, or even a social media update, and then publish it online through Rytr.
You can also use Rytr as a CMS (content management system) for your website.
copysmith
CopySmith.ai offers some possibilities increase your site's revenue. An example is the Chrome extension. This feature allows you to install a Chrome plugin that places an affiliate link for your website in any browser using Google Chrome.
Another possibility is to offer users shopping cart popups. With this feature, you can display a popup asking users if they want to buy any of your products.
The platform can generate complete texts using information such as keywords, subjects, tones and formats. It can also help the marketers to create eye-catching titles, product descriptions and
2. Use in digital marketing
AI is increasingly used in digital marketing. It can help marketers improve efficiency, personalize customer experiences, and better understand customer behavioral data. Here are some of the most common uses of AI in digital marketing:
✔️ Personalization of the customer experience
AI can help marketers personalize the customer experience based on customer behavioral data, purchase history, and profile.
Mediafixer chatbots and virtual assistants can be used to answer customer questions in real time and provide them with personalized recommendations.
✔️ Data analysis
AI can help marketers analyze large amounts of real-time data, such as browsing data, transaction data, and social media data.
This information can be used to understand customer preferences and adjust marketing strategies accordingly.
✔️ Campaign automation
AI can be used to automate certain marketing tasks. These include segmenting mailing lists, sending follow-up emails and personalizing advertisements based on customer behavioral data.
✔️ Improved content relevance
AI can help improve content relevance by analyzing market trends and customer behavioral data. Semantic analysis tools can be used to optimize content based on user search intent.
✔️ Search Engine Optimization
AI can be used to optimize search results by using competition analysis and demographic data to determine the most relevant keywords.
✔️ Create video scripts for content creators
Using an AI tool, you can easily create video scripts for YouTubers and other content creators. Many video creators want to outsource their script writing because it is one of the most difficult and time-consuming parts of the content creation process.
So if you are good at writing scripts, using AI writing software can help you create them faster. This means that you can earn more money quickly once you have defined the screenwriting process.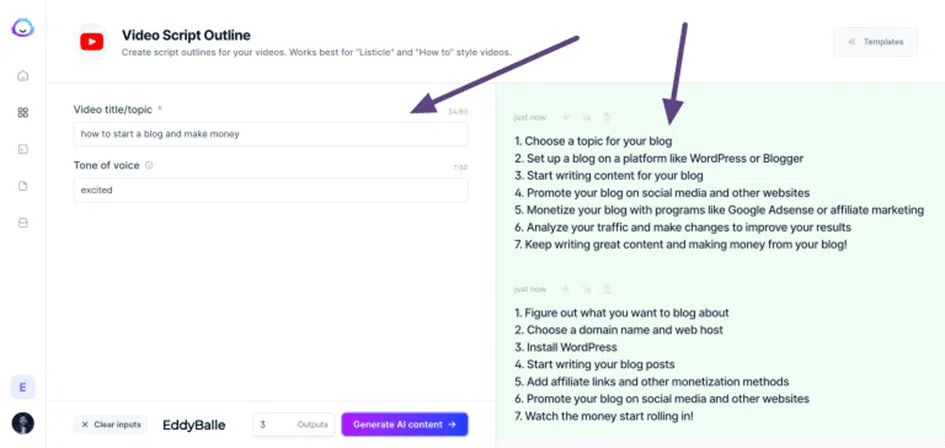 AI scripting tools like Jasper AI give you custom templates for different types of videos so you can quickly create the perfect script for your client.
However, despite its many benefits, AI also has limitations. The use of AI can be expensive, which may limit its use by small businesses. It is complex and requires specialized technical skills to use it. AI can be influenced by unconscious bias, which can negatively impact the results of marketing campaigns.
The use of AI may also raise data privacy concerns, which may have legal and ethical implications.
3. Start your own blogs
Start a blog and rank at the top of search engines research is very feasible with AI content writing software. This is a great way to get started with AI writing because you can use the software to quickly and easily create high-quality content for your blog.
A blog can be a lucrative platform to share your knowledge and experiences in the field of artificial intelligence. By creating quality content and attracting a large audience, you can monetize your blog in different ways.
First of all, it is essential to choose a specific niche in the field of artificial intelligence for your blog. This can include topics like machine learning, natural language processing, computer vision, intelligent robots, etc. By specializing in a specific area, you can establish yourself as an expert and attract a targeted audience.
Once you've chosen your niche, start creating quality content. Write informative articles, tutorials and in-depth analyzes on the latest trends and advances in AI. Make sure your content is well structured, easy to read and provides real added value to your readers.
To attract a large audience, use SEO techniques to improve the visibility of your blog. Conduct keyword research to identify relevant terms in your niche and use them in your titles, meta tags, and content.
Also share your content on social media and engage with other bloggers and AI experts to increase your visibility. Once you've developed a loyal audience, you can start monetizing your blog. A common option is to display advertisements on your site.
You can join affiliate programs or use advertising platforms such as Google AdSense to display ads relevant to your content. Make sure you find a balance between ads and content so you don't overwhelm your readers.
✔️ 6. Work as a freelancer
More and more freelancers are seeing the power of AI software to make money online and are using AI-powered tools to get ahead.
If you're a freelance writer, you can use AI writing software to help with writer's block, content generation, and even SEO. It can help you get more freelance work, saving you hours of writing.
There are many AI writing tools that can help you write online quickly and easily.
So show off your freelancing skills by helping other websites create the perfect article, including:
Number of words
SEO meta tags
SEO Audits
Social media posts for content production
Once you take gigs, make sure that whenever you generate content, it must contain NLP (also known as natural language processing) keywords throughout the article.
✔️ 7. Create AI-generated images for business
If you're tired of seeing stock images on websites, you can create AI-generated art for small businesses and bloggers with boring stock images as a placeholder.
With new technologies such as Slab, you can generate AI-generated images in seconds by adding specific keywords.
Not only does this help with branding, but companies will consistently pay you for new images on every blog post they publish. What makes this even better? You can outsource image creation. That's what I call passive income.
⛳️ In summary….
Control artificial intelligence is quite simple, as there are many online courses and expert masterclasses. Enrolling in such programs helps you sharpen your knowledge and prepare yourself for the industry.
🔰 FAQ: how to make money with artificial intelligence?
👉 How much can I earn with Artificial Intelligence?
The answer to this question depends on a variety of factors, including your experience level, the industry you work in, and the specific positions you are applying for.
That said, machine learning professionals can expect to gain an average salary of $80 per year.
👉 Which AI job offers the highest salary?
There is no definitive answer to this question as it largely depends on experience, location, and the specific company.
However, some of the highest paying jobs in AI include positions such as data scientists, machine learning engineers, and AI researchers.
👉 How to make money using machine learning?
There are several ways to make money using machine learning. One is to develop models that can be sold or rented to other companies.
Another way is to develop machine learning-based products that can be sold to consumers. Finally, companies can use machine learning to improve their own internal processes and gain efficiency.